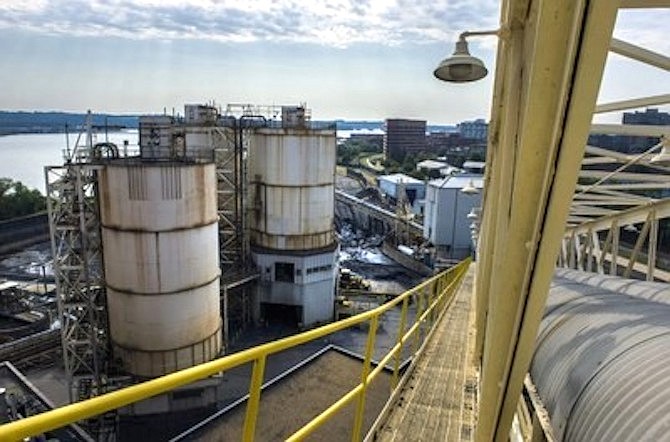 The Potomac River Generating Station, a shuttered coal-fired power plant in North Old Town, has been sold to Hilco Redevelopment Partners and is slated for redevelopment in a move that city officials hope will provide housing, jobs and improved public space along the Potomac River.
"The redevelopment of this site is a long time coming," said Alexandria Mayor Justin Wilson. "I expect that Hilco Redevelopment Partners will pursue an environmentally sustainable, economically vibrant mixed-used development that provides housing and neighborhood amenities in Old Town North."
Terms of the sale of the 71-year-old facility between the Chicago-based Hilco and the Potomac Electric Power Company (Pepco) were not disclosed.
Located at 1300 N. Royal St., the facility sits on approximately 20 acres and is one of the largest industrial sites in the city. It was decommissioned in 2012 and is included in the Old Town North Small Area Plan that was approved by City Council in 2017 and designates the area as an arts district.
Earlier this year, the city approved a request from Pepco to subdivide the 25-acre parcel, paving the way for a sale that allows Pepco to retain a portion of the site to continue to own and operate an electrical substation. In the agreement, Hilco acquired the majority of the site including the fee simple interest and leasehold interest which was previously under a long-term ground lease.
"We're excited for the opportunity to redevelop the old Potomac River Generating Station site," said Roberto Perez, Chief Executive Officer of Hilco Redevelopment Partners, in announcing the sale. "Hilco Redevelopment Partners is committed to remediating this extraordinary site to the most current environmental standards and transforming it into a new and exciting development that will best serve the community and create economic growth and opportunity for all stakeholders."

Known locally as Mirant or GenOn, the coal-fired plant began operations in 1949 to provide power to Washington, D.C. In recent years, residents of the area united to protest the contamination of the air emitted by the plant and successfully forced the facility to cease operations.
"We approach every redevelopment opportunity in a way that is sustainable for the environment, sustainable for the community, and sustainable for jobs," Perez added. "Alexandria will be no exception."
Hilco said it expects to work closely with the City of Alexandria, community members and other stakeholders in the coming months to reimagine the site into a mixed-use development that benefits the community.
"Every opportunity to transform sites like these into new spaces that better serve the community is exciting for our firm," said Hilco Global Founder and CEO Jeffrey Hecktman. "Given its location in historic Old Town Alexandria and within sight of the Washington Monument and our nation's Capital, this one is special. We're excited to begin the redevelopment process and work as a partner and good neighbor to the citizens of Alexandria."