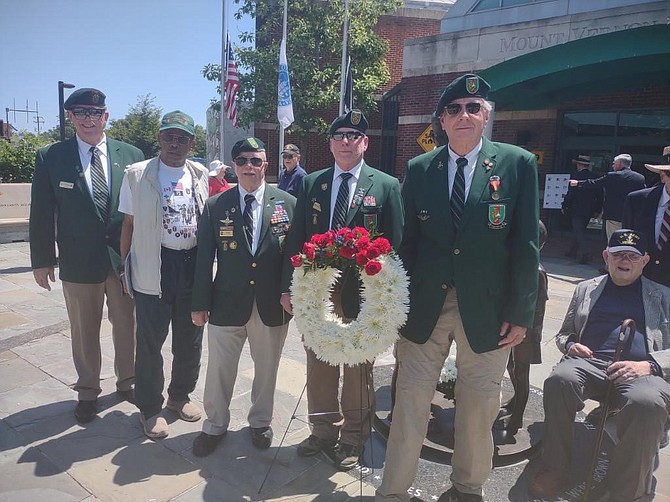 Alexandria paid tribute to its fallen veterans May 30 with Memorial Day ceremonies at Alexandria National Cemetery and the Captain Rocky Versace Plaza and Vietnam Veterans Memorial in Del Ray.
In Del Ray, the names of Alexandria's 68 fallen and missing in action service members from Vietnam were read aloud as part of the annual ceremony at the site named for Medal of Honor recipient and Vietnam POW Humbert Roque "Rocky" Versace.
"The Friends of Rocky Versace are grateful for the support of both the Del Ray and greater Alexandria communities for the wonderful turn-out on a bright, hot morning," said master of ceremonies Kevin Rue, a representative of the organization that hosts the ceremony. "It is wonderful to see Alexandria's 68 Vietnam War fallen heroes remembered by those who took time out of their long weekend to attend the ceremony."
The ceremony included a wreath laying by nine members of Versace's West Point class of 1959 and was attended by several Gold Star family members. Two Gold Star widows of Alexandria's fallen, Reba Bayliss, widow of Capt. Paul M. Bayliss, and Bette Spengler Meuleners, widow of Capt. Henry Spengler, took part in the Ceremony, reading their Fallen Heroes' names during the Reading of the Names portion of the Ceremony. 
Also attending were Rocky Versace's sister-in-law, Curtis Versace, a Gold Star widow, Clare Ericson Barkovic, whose late husband, 1LT William Ericson, was a West Point classmate of Spengler as well as one of Spengler's brothers, James Spengler, Chief, Alexandria's Recreation, Parks & Cultural Activities Department.
M. Christopher Williamson of the Defense POW/MIA Accounting Agency gave an update on the ongoing search for the four Alexandria veterans still missing in action: Capt. Rocky Versace, Maj. Morgan Donahue, 1LT Larry Lilly and SFC Douglas Blodgett. The remains of Spengler and Capt. Barry Lockhart, formerly MIA, were recovered in 1989.
Carolyn Weinroth, former Miss Northern Virginia, opened the ceremony with the National Anthem followed by the Pledge of Allegiance led by members of the St. Rita American Heritage Girls Troop 1381. Bugler Lt. Col Steve Tracy (ret.) closed the ceremony with Taps.
American Legion Post 24 led the ceremony at Alexandria National Cemetery, which included remarks from Ronald E. Walters, Principal Deputy Undersecretary for Memorial Affairs for the Department of Veterans Affairs.
American flags were placed at each of the headstones in the cemetery with six wreaths bearing the American Legion insignia marking the site of past Post 24 Legion commanders.
"Every Memorial Day we honor our past Commanders who are buried in this cemetery," said Post 24 Commander Henry Dorton. "We also place a wreath at the site of the Unknown Union Soldier Memorial."
F. Clinton Knight is one of the past Legion Commanders buried in the cemetery.
"F. Clinton Knight was commander in 1925 and 1926 and was instrumental in saving the Gadsby's Tavern building," Dorton said. "At the time there was a huge controversy about saving the building or funding a memorial to local World War I veterans but Clinton felt that the connection to our Founding Fathers was more important and worked to save Gadsby's."
Alexandria National Cemetery is one of the country's original national cemeteries established in 1862. By 1864, it was close to capacity, leading to the development of Arlington National Cemetery.
"I am thankful that we were able to be back at our usual site for Memorial Day for the first time in two years," Dorton added. "The American Legion has a long history of our Memorial Day observance there and I am happy with the turnout and respectful public support."