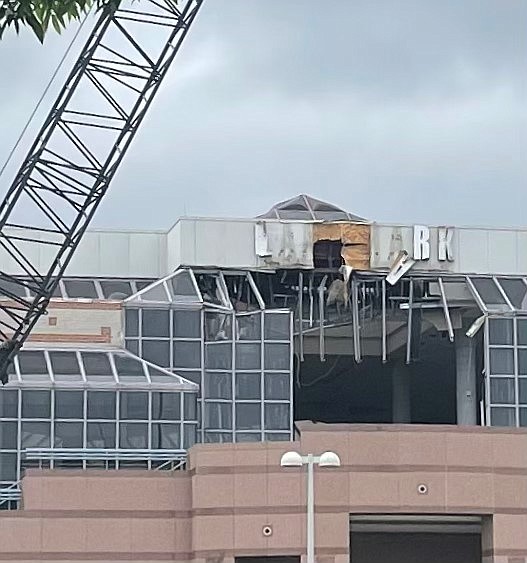 The demolition of Landmark Mall began May 12 as redevelopment of the 52-acre in the city's West End site gets underway.
The site will become a mixed-use development anchored by the new Inova Alexandria hospital. Included will be residential, retail, commercial and entertainment uses as well as central plaza, parks and public spaces and transit hub. Alexandria Fire Station 208 will relocate there when construction is complete.
"Landmark Mall was the go-to for everything and the only game in town," said Alexandria resident Roger Grooms. "Sears was where our dads went for their Craftsman tools and Hecht's and Woody's, where everyone had to go to see the beautiful Christmas decorations. Across the way was Raleigh's Haberdashery where men got dressed up to go shopping for a suit. And of course S&W Cafeteria always had a long line for great food and a friendly staff behind the counter."
City Council approved the redevelopment plan in July of 2021. The mall itself has been closed since 2017 with Sears closing its doors in 2020. While vacant, the former Macy's was used as a temporary home for Carpenter's Shelter and in 2018 Wonder Woman 2, starring Gal Gadot, used the site as a location for filming.
"I remember Landmark when it was a shopping center, not an enclosed mall," said Andrea Goldfarb. "I worked at Steven Windsor selling thousands of pairs of Levi's and Canterbury belts and wallets. Holiday time was so busy, there was always a line at the register."
According to the project website, all structures will be demolished save for the parking garage, which will be renovated and incorporated into the new development.
"I remember the traffic going into Landmark," said Jon Miller. "And I loved the liver and onions at S&W Cafeteria."
The first buildings are expected to be completed in 2024. Construction will culminate in 2028 with the opening of the new Inova hospital.